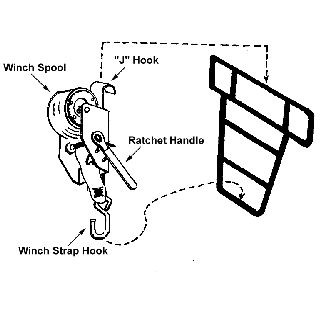 IF THE ASSEMBLED WINCH YOU RECEIVED DOES NOT LOOK LIKE THE ILLUSTRATION ABOVE, REMOVE THE TWO NUTS FROM THE "J" HOOK AND REVERSE THE POSITION OF THE "J" HOOK AND RE-SECURE NUTS.
STEP 1: Mount Winch Spool towards "J" Hook. Winch Strap Hook should be pointing in opposite direction from "J" Hook. Secure with 3/8" bolts & nuts provided.
STEP 2: Attach ratchet handle with flat side toward winch. Secure with 1/2" nut provided.
STEP 3: In order to mount the winch on any rack, the lip of the "J" Hook may be placed over the desired rail. Once the desired location of the winch has been chosen and the "J" Hook mounted, the winching strap can be hooked to a lower rail on the rack and secured by tightening the strap using the winch handle. NOTE: When using winch, always leave one wrap of strap around Winch Spool to avoid damage to Winch Spool Strap Pin.
IMPORTANT NOTICE: Be sure to add oil to the ratchet handle gear mechanism on a monthly basis to ensure optimal operation. DO NOT USE WD-40.